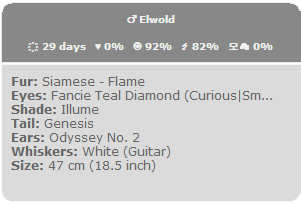 Age is a stat shown on your KittyCat and is denoted by the symbol   ҈  .
Breeding Age
Edit
A cat may only gain breeding eligibility if they're between 7 days old and 120 days old. Between this age range, a cat will gain love unless their breeding ability has been turned off by the owner.
The moment a cat's age reaches   ҈   121 days, the cat's breeding will automatically be turned ♥ Off.
Ad blocker interference detected!
Wikia is a free-to-use site that makes money from advertising. We have a modified experience for viewers using ad blockers

Wikia is not accessible if you've made further modifications. Remove the custom ad blocker rule(s) and the page will load as expected.