There are currently 9 total traits that make up a kittycat.
Fur
Eyes (3 total)

Eye Color
Eye Shape
Eye Size

Shade
Tail
Ears
Whiskers (2 total)

Whisker Color
Whisker Shape
Special Traits
Edit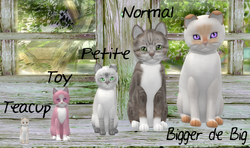 Size
Teacup
Toy
Petite
Bigger de Big
Megapuss (able to be ridden, also used in MegaPuss Racing)
Pages in category "Traits"
Ad blocker interference detected!
Wikia is a free-to-use site that makes money from advertising. We have a modified experience for viewers using ad blockers

Wikia is not accessible if you've made further modifications. Remove the custom ad blocker rule(s) and the page will load as expected.