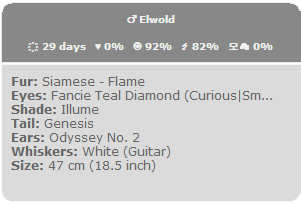 Energy is a stat shown on your KittyCat and is denoted by the symbol  ↯ or ☪↯ .
If a cat is awake, they will show the ↯ symbol. If they are asleep, they will show the ☪↯ symbol.
In order to reach ♥♥100% love for cats to be eligible to breed, a cat needs to be both awake and at ↯ 25% energy or higher.
Energy Vitamins
Edit
A cat may consume an infinite amount of energy vitamins to boost their happiness:
Energy5 vitamin with a 5% happiness boost, costing 110L/K$275
Energy10 vitamin with a 10% happiness boost, costing 220L/K$550
Energy Vitamins can be purchased either at the KittyCatS Main Store or in the online cattery.
Ad blocker interference detected!
Wikia is a free-to-use site that makes money from advertising. We have a modified experience for viewers using ad blockers

Wikia is not accessible if you've made further modifications. Remove the custom ad blocker rule(s) and the page will load as expected.