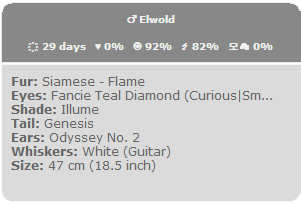 Gender is a stat shown on your KittyCat and is denoted by the symbol ♂ or ♀.
A cat's gender is random and can be seen before cat is birthed by clicking on the box and turning that box into an "Image" through the menu.
Update 1.23 & Gender
Edit
KittyCatS Update 1.23 is most commonly known as the "Gender Update" as for the first time ever, KittyCatS owners could see the gender of their kittens before birth. KittyCatS coined this gender revealing "Peek-A-Box" on their blog.
Update 1.23 introduced the "image mode" that can be prompted by clicking a kitten box and selecting to see the image which will display either a blue ♂ or a pink ♀ on the box to reveal that kitten's gender. If an owner rather have the kitten's gender be unknown until birth, he or she can keep the kitten in "box mode" to not spoil the surprise.
Prior to this update, the gender of an unborn kitten was completely unknown until its birth.
Ad blocker interference detected!
Wikia is a free-to-use site that makes money from advertising. We have a modified experience for viewers using ad blockers

Wikia is not accessible if you've made further modifications. Remove the custom ad blocker rule(s) and the page will load as expected.