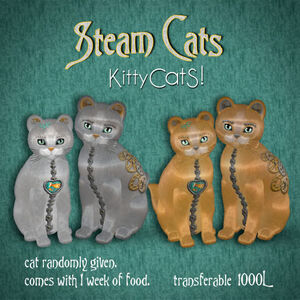 The Time for a Cure - Relay for Life collection released on May 19th 2012 in an effort to raise money for 
Relay for Life
.
They came in four variations, two per gender:
♂ Boys
♀ Girls
"
The "Time For A Cure" SteamPunk KittyCatS CAN carry the WAVY whisker trait shown on the cats.
"
Each SteamCat had a chance to carry and pass on the Wavy whisker trait
Ad blocker interference detected!
Wikia is a free-to-use site that makes money from advertising. We have a modified experience for viewers using ad blockers

Wikia is not accessible if you've made further modifications. Remove the custom ad blocker rule(s) and the page will load as expected.