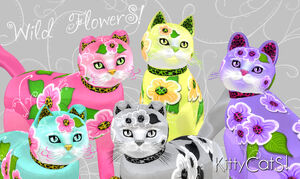 The Wild Flowers collection, along with the
Scrambled EggS
, were released as part of the Spring 2013 collection on March 24th, 2013.
They came in six colors at random:
Citrus Blossom
Pink Petal
Shadow Dancer
Spring Sky
Vivid Violet

Any 2 Wild FlowerS cats bred together will produce a special Wild Child offspring.
Note: These were the first collection cats to come in the new sizes Petite, MegaPuss, and Bigger de Big.
Ad blocker interference detected!
Wikia is a free-to-use site that makes money from advertising. We have a modified experience for viewers using ad blockers

Wikia is not accessible if you've made further modifications. Remove the custom ad blocker rule(s) and the page will load as expected.